Radio Information Show
Thursday's

7 pm cst (8 pm est)



Listen Online

call in and ask questions live during the show
888-327-0061

Sign up for ICKC e-news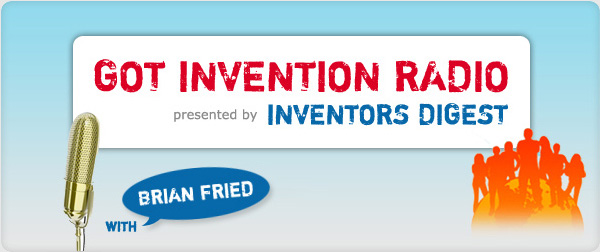 About Invention Radio
Welcome to Got Invention Radio!! Finally a live weekly radio show for inventors and entrepreneurs....We will have a great line up of expert guests, successful inventors and business mentors to share their experiences and resources to help us with our ideas.
You can listen live to our show on Thursdays at 8pm E.T./5pm P.T., call in to ask questions and you will also be able download previous shows if you missed it or just want to save it to play on your media players.
We are currently looking for speakers, sponsors and your support to bring this show to new levels. We welcome your feedback and you can email us at This e-mail address is being protected from spambots. You need JavaScript enabled to view it . A special thank you to our newly hired Programming Director, Terry Morris for putting together a great lineup of guests and handling all our inquiries.

About Your Host, Brian Fried
Brian Fried has always had a passion for coming up with new ideas. He turned his hobby of inventing into an active business. To date, he holds four patented inventions and has an additional three that are patent pending under his company, Think Up Designs. Several of Brian's inventions have been brought to market through manufacturing, as he has appeared on QVC and also licensing for retail distribution products from kids toys and infant products to kitchen gadgets. Another specialty of his is to create and license brand art properties which targets the teen/tween market. His brands have been placed in several retail chains such as Target, and other well known retailers in the US and Canada.

Keywords

Invention, inventor, inventor book, inventor resources, patent, patent attorney, new ideas, invent, prototyping, prototype, inventor show, invention show, inventor help, brian fried, submit invention, product to market, trademark, uspto.gov, inventors digest, inventor group, UIA, invention trade show, how to protect my idea, i have an idea, inventing, provisional patent, utility patent, as seen on tv, inventor submission, inventor contest, help with my invention, finance my invention, inventor questions, you and your big ideas
The Inventors Club of Kansas City (ICKC) is a Certified Member organization of
the United Inventor Association (UIA) and the GuideStar Exchange seal of approval.


Last Updated (Thursday, 29 December 2011 15:18)