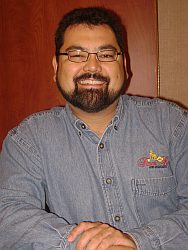 Could your invention be the next Snuggie, Rotisserie Oven, Orange Glo, or Total Gym? Each of these products have sold over $100 million on TV and online. Come learn how these and other products hit the big time, generating massive sales through Electronic Marketing while creating national or global brands that eventually appear on your local retail shelf.

You'll learn:
What kinds of products do best in the Electronic Marketing channel?

What is the difference between marketing online, infomercial, short form DRTV, home shopping?

Show me the money: What type of deals can an inventor expect to see?

How can you avoid getting ripped off?
Your Speaker:
Marty M. Fahncke, an expert in multi-channel direct response marketing with over 20 years experience, brings a unique and proven track record of experience to his audiences. Having been involved in marketing campaigns that have generated over one BILLION dollars in sales, Marty has seen what works...and what doesn't.
As President of FawnKey & Associates, a consulting and project management firm, Marty has generated hundreds of millions of dollars in revenue for his clients using Electronic Marketing tactics such as direct response television, the telephone, and the internet.
Marty speaks to audiences across the country on topics related to internet marketing, social media, affiliate marketing, direct response television and more. Marty also shares his knowledge as an Advisory Board member and feature writer for Electronic Retailer magazine and Online Strategies magazine. Read more about Marty M. Fahncke at the blog "My Perspective", which can be found at http://www.MartyFahncke.com.
But wait, there's more!
As part of his presentation, Marty will be providing "on the spot" review and recommendations for YOUR invention! Bring your invention, idea, or prototype to the meeting and Marty will give you the "straight story" about the Electronic Marketing potential of your invention, provide ideas on how to improve your product to make it more desirable for the Electronic Marketing industry, and give you as many specific marketing ideas as possible.